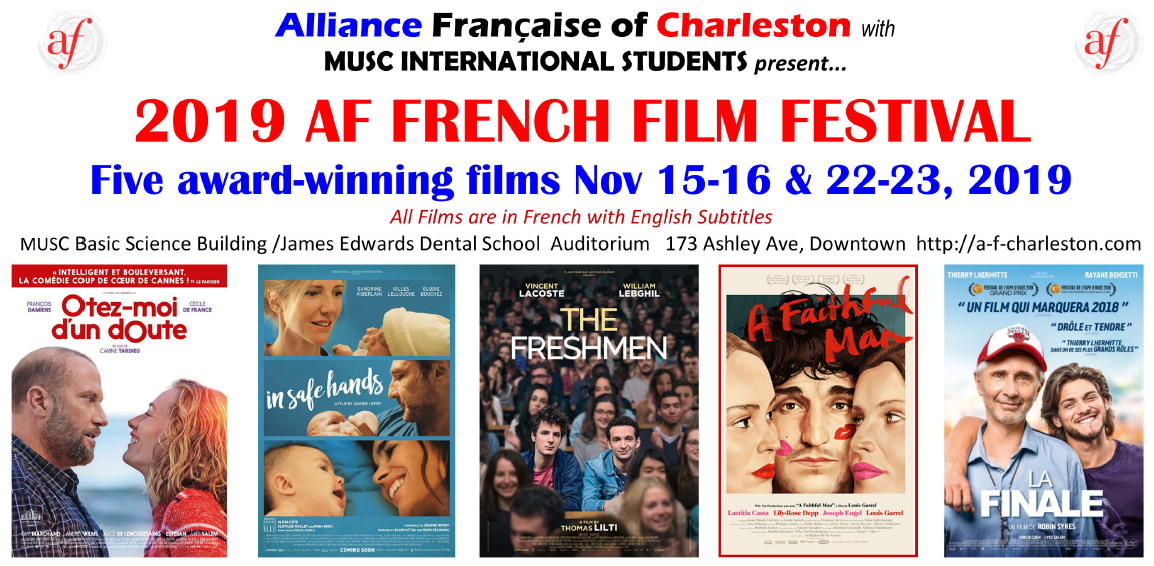 Movie pass: 
$10 for members and students under 25.
$15 for general public.
Tickets (at the door): $5 per film (for everyone)
FRIDAY NOVEMBER 15
7:00 pm   ÔTEZ-MOI D'UN DOUTE (JUST BE SURE) 2017
ÔTEZ-MOI D'UN DOUTE (Just To Be Sure) 2017
Directed and co-scripted by Carine Tardieu. With Cécile de France & François Damiens.100 min
In French with English subtitles
Forty-something widower Erwan works as a bomb disposal expert, clearing remnants of the two World Wars in Brittany, when a DNA test reveals that the man who raised him is not his biological father. Also his feisty daughter Juliette is pregnant but does not know who the father is. Erwan hires a detective and finds that his biological father lives close by...or so it seems. In the meantime he meets the charismatic doctor Anna and falls for her. Tardieu's absorbing tale of parenthood, love and family, takes its audience on an emotional journey with many twists and turns that manage to be both endearing and funny. Premiered at the 2017 Cannes Film Festival to a standing ovation. "Cleverly written and winningly cast comedy." Variety
SATURDAY NOVEMBER 16  
2:30 pm

  PUPILLE (IN SAFE HANDS) - 2018

7:00 pm 

PREMIÈRE ANNÉE (THE FRESHMEN) - 2018
PUPILLE (In Safe Hands) 2018
Directed & scripted by Jeanne Herry. With Sandrine Kiberlain & Gilles Lelouche. 110 minutes.
In French with English subtitles.
Baby Théo (temporary name) is given up for adoption on the day of his birth by his biological mother who has two months to change her mind ...or not. This is called birth under X (accouchement sous X) where the mother can do so without identifying herself. Doctors, nurses, social workers, psychiatrists and potential parents all come into play as we follow the child over a three-month period, during which he first lands in the very safe hands of a burly social worker (Gilles Lelouche) while other case workers are tasked with finding him a family among all the candidates who have been waiting sometimes for as long as nine years.
Seven nominations at the 2019 César Awards.
"Intelligently observed and backed by a strong cast ...and an ubercute baby" Hollywood Reporter
PREMIÈRE ANNÉE (The Freshmen) 2018
Directed and co-scripted by doctor-turned-director Thomas Lilti. 92 minutes.
In French with English subtitles.
Antoine begins his first year of medical school...for the third time. He passionately wants to become a doctor but the dry material does not come easy to him and this third year effort drives him to the brink. Benjamin arrives directly from high school, his father is a neurosurgeon and he is familiar and relaxed about the whole process. They become friends and study pals, up to their necks in books and material they have to cram late into the night. One win and four nominations
"The two actors have phenomenal chemistry. Great script mixing realism with some great humor." Cinephile
FRIDAY NOVEMBER  22
7:00 pm L'HOMME FIDÈLE (A FAITHFUL MAN) - 2017
L'HOMME FIDÈLE
(
A Faithful Man
) 2018
Directed and co-scripted by Louis Garrel. 75 minutes.
In French with English subtitles.
Nine years after she left him for his best friend, Parisian journalist Abel gets back together with his recently widowed old flame, Marianne. It seems to be a beautiful new beginning but soon the hapless Abel finds himself embroiled in all sorts of drama: the come-ons of a wily young woman sister of the deceased and the machinations of Marianne's morbid 9-year-old son who is too keen on police procedurals.
Best screenplay at the 2018 San Sebastian Film Festival.
"A light, elegant mysterious French romantic comedy of a fornlonly handsome Frenchman caught between two gorgeous femmes fatales in picturesque Paris streets." Variety
SATURDAY NOVEMBER 23  
7:00 pm LA FINALE (IN THE GAME) - 2018
LA FINALE
(
In the Game
) 2018
Directed and co-scripted by Robin Sykes. With Thierry Lhermitte. 95 minutes.
In French with English subtitles.
Lyon. Everyone in the Verdi family takes great care of Roland, the grandfather, who is starting to lose his mind. Everyone except JB, the teen of the family who has only one goal: to go to Paris with his basketball team for the championship final. His parents, detained for the weekend, ask him to give up his dream and leave him in charge of his grandfather. But JB decides to go to Paris and takes his grandpa along. Nothing on this trip will go as planned....
Best Actor Award for Lhermitte and Grand Prix for the film at the 2018 Alpe d'Huez Comedy Festival.
"Comedy drama that will not fail to both move and make the audience laugh." Cinephile