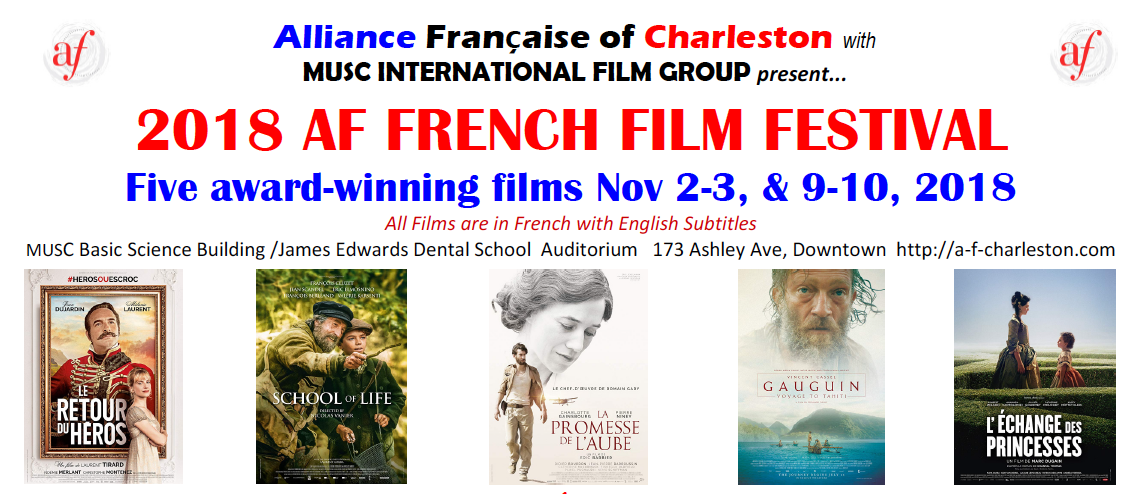 Movie pass: 
$10 for members and students under 25.
$15 for general public.
Without the pass: $5 per film (for everyone)
FRIDAY NOVEMBER 2 
7:30 pm   LE RETOUR DU HÉROS (Return of the Hero) - Laurent Tirard - 2017
Directed and co-scripted by Laurent Tirard (Le Petit Nicolas). Historical romantic comedy with Oscar winner Jean Dujardin and nominee Mélanie Laurent. 90 minutes.
France, 1809. The dashing Captain Neuville is called to Napoleon's battlefields leaving his future bride Pauline heartbroken. After months of not hearing from the captain, Pauline's sister Elisabeth decides to write letters as Neuville, concocting outrageous adventures and galanteries. But three years later, the captain reappears and is welcome in glory when in truth he is a war deserter and an opportunistic scoundrel. Elisabeth is determined to expose the real Neuville and the two imposters start a ruthless fight, conspiring against each other using the best tricks they can find. Palaces and period costumes notwithstanding the action and dialogue are funnily 21st century.
SATURDAY NOVEMBER 3  
2:30 pm

  L'ÉCOLE BUISSONNIÈRE (The School of Life) - Nicolas Vannier - 2017

7:00 pm 

LA PROMESSE DE L'AUBE (Promise at Dawn) - Éric Barbier - 2017
L'ÉCOLE BUISSONNIÈRE (The School of Life) 2017
Directed & co-scripted by Nicolas Vanier (Belle & Sebastian).   116 minutes.
Paris 1927. Paul has always had only one thing: the high walls of his orphanage. Entrusted to Celestine and her gamekeeper husband Borel, the child of the cities arrives in Sologne in the Loire valley. The immense forest and the animals all belong to Count de la Fresnay, a taciturn widower who lives solitary in his manor. Paul left to himself meets the local poacher, Totoche, who will teach him about life but also the forest and its secrets.
Director Nicolas Vanier, a great defender of nature in all its diversity borrows from his own childhood experience growing up in the Sologne to celebrate the rustic charm of the region he loves.
"Unabashedly old-fashioned" Justin Lowes, Hollywood Reporter
LA PROMESSE DE L'AUBE (Promise at Dawn) 2017.
    Directed and co-scripted by Eric Barbier, based on Romain Gary's 1960 autobiographical novel. 130 minutes
From his difficult childhood in Poland to his adolescence under the sun of Nice, to his aviator's exploits in North Africa during WW II, Romain Gary (1914-1980) has lived an extraordinary life. His eagerness to become a great man, one of the greatest novelists of the 20th century--he is the only author to have won the Goncourt Prize in French Literature twice under two different names--  he owes it all to the boundless love of his passionate endearing mother Nina. But this unconditional maternal love will also be a burden at times.
4 nominations at the 2018 Césars Awards.
FRIDAY NOVEMBER 9  
7:00 pm GAUGUIN, VOYAGE DE TAHITI (Gauguin, Voyage to Tahiti) - Édouard Deluc - 2017
Directed and co-scripted by Edouard Deluc, adapted freely from Gauguin's travelogue NOA NOA (Tahitian for "Fragrance".) With Vincent Cassel. 102 minutes.
1891-1893. French artist Paul Gauguin (1848-1903) was an innovator of modern art known for experimenting with bold colors, along with his contemporaries Vincent van Gogh and Paul Cézanne. By 1891, plagued by money problems, Gauguin was already well-known in artistic circles, but had grown tired of the civilized world and its political and moral conventions. Since neither his wife and five children nor his artists friends wanted to accompany him, he ventured alone to Tahiti, consumed with a yearning for new inspiration. Pushing deep into the Tahitian jungle, Gauguin meets Tehura, his muse, who will consume his mind and inspire his most iconic works of art.
"Beautiful film.. with a believably tormented performance by Vincent Cassel"
S. O'Malley,
www.rogertebert.com
SATURDAY NOVEMBER 10  
7:00 pm L'ÉCHANGE DES PRINCESSES (The Royal Exchange) - Marc Dugain - 2017
Directed and co-scripted by novelist Marc Dugain, adapted from Chantal Thomas (Farewell My Queen)' 2013 novel, itself based on a true historical episode.
In 1721, Philippe d'Orléans, Regent of France wanting to seal the peace with Spain after years of war offers to the King of Spain, Philippe V  a marriage between their respective heirs: Louis XV, age 11 and Mariana Victoria the four-year-old Spanish Infanta. He also includes his twelve-year-old daughter, Louise Elisabeth, (Mademoiselle de Montpensier) as a bride for the Spanish heir, fourteen-year-old Don Luis. Madrid responds enthusiastically to both proposals. The exchange of the princesses is to take place with great pomp on a small island in the river bordering the two countries.  But this precipitous introduction into the grownups' world of manipulation and power games will get the better of the four children and their carefree spirits.